Published Admissions Numbers for Southwark primary schools 2019/20
Statutory consultation on the amendment of Published Admissions Numbers (PAN) for Southwark primary schools 2019/20 onwards

In accordance with the School Admissions (Admission Arrangements and Co-ordination of Admission Arrangements) (England) Regulations 2012, Southwark Council is consulting on a proposal to decrease the Published Admission Number (PAN)* of Reception classes at 13 primary schools for the academic year 2019/20 onwards. This proposal is an area wide undertaking by the council to right-size PANs due to falling rolls across the borough to balance the number of places available against the current level of demand.

School admissions and census data has confirmed that primary rolls, particularly in Reception, have been falling year on year in Southwark – a three year trend has been established. An over supply of places at a school can lead to financial and organisational inefficiency and can be challenging for individual schools to manage. The local authority and school leaders have worked together to consider options and take steps to address this. A review of the rolls of all primary schools in the borough has been undertaken, schools where rolls were falling and/or where spare capacity already existed due to schools not recruiting to their PANs over a 3 year period have been identified and put forward for reduction.

The aim of this proposal is to help stabilise each school's intake and enable school leaders to plan and deliver school provision effectively and meet local demand. The reduction of the Reception PANs across Southwark will not lead to a shortage of school places in the borough - there are 695 spare reception places this year and the proposal has the potential to reduce this by 315 places. There are a sufficient number of places available at other primary schools in the borough to accommodate Reception and in-year demand at current levels. A reduction in PAN would apply to the Reception intake for each of the proposed schools from 2019 onwards, and not to children already in existing classes at the school.

There will be no costs to schools with regards to the proposed PAN reduction; there will be a small administrative cost to the local authority. Long term value for money will be achieved by ensuring that schools are the right size to reflect local demand. Southwark council will continue to monitor the demand for school places across the borough and act accordingly to re-provide places should the situation change and additional places be required.

Proposed reductions to individual primary school's PANs are outlined below (all other primary school's PANs will remain as already published for 2019/20):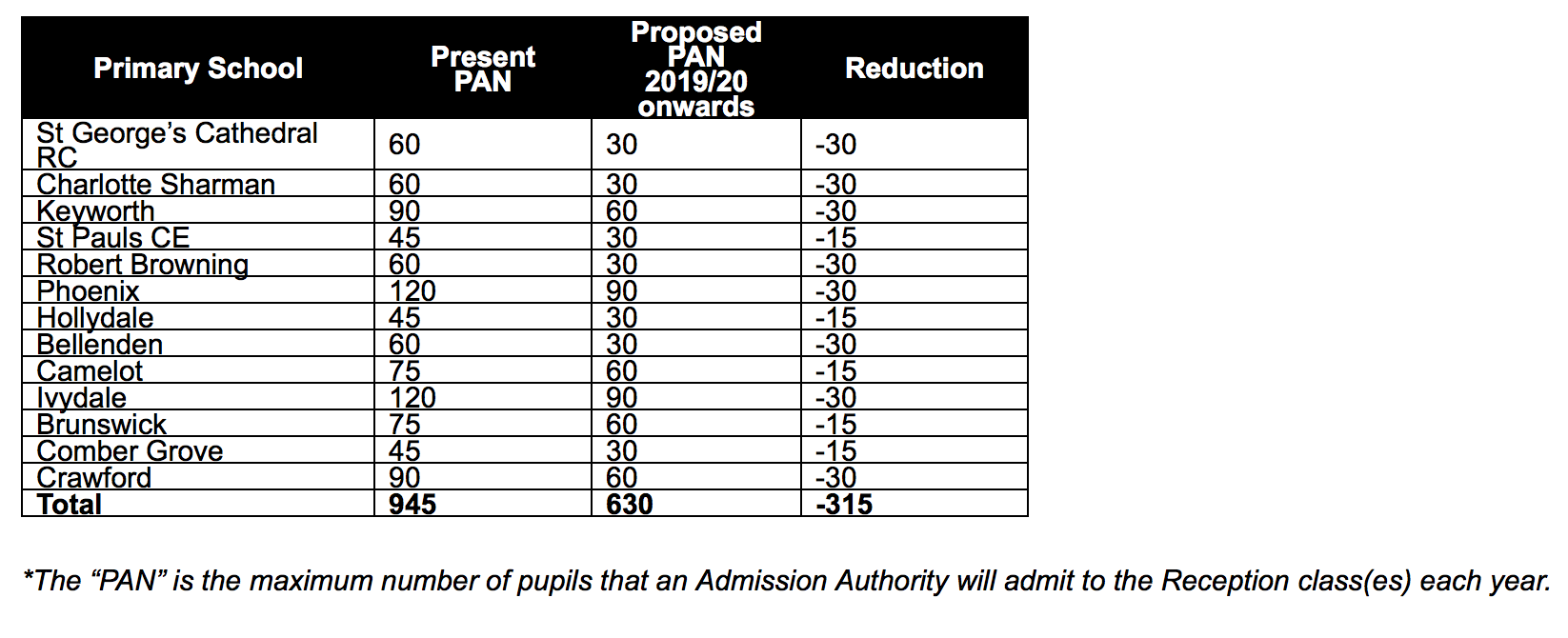 Where can I view the consultation?
You can view Southwark Council's consultation on the amendment of Published Admission Numbers (PAN) for Southwark primary schools 2019/20 onwards at www.southwark.gov.uk/panchanges2019

Alternatively, you may contact Ric Euteneuer by email at ric.euteneuer@southwark.gov.uk for a hard copy of the consultation documents should you require them.

Your views on this proposal are important to us.
Southwark Council welcomes any comments and views from the community and other admission authorities including families, governing bodies, headteachers, other colleagues and key stakeholders. Please provide your comments to this consultation online at www.southwark.gov.uk/panchanges2019

If you are unable to access our website, you may submit your comments by email to ric.euteneuer@southwark.gov.uk or by post to Ric Euteneuer, Education Access 0-25, (4th floor) Hub 2, Children's and Adults Services, Southwark Council, PO Box 64529, London SE1P 5LX.

The deadline for submitting your comments to this consultation is no later than 5pm on 21 December 2018.

What happens next?
We will collate and present all feedback from this consultation to the Cabinet of the Council in January 2019 for decision, and if agreed, will then approach the Office of the Schools Adjudicator (OSA) for approval to amend the PAN of the school with effect from September 2019 thereafter.