Access Sport are excited to announce that Dulwich Tennis Club will be delivering Disability Inclusive Tennis Sessions starting January 16th 2022.
When: Sundays 11am-12pm
Age: 6-11 years old
Where: Dulwich Lawn Tennis Club, Burbage Road, SE24 9HP
All abilities and disabilities welcome.
Sessions will focus on a mix of different skills and games. Sessions take place outside where all equipment is provided and Covid-19 guidance is observed.
If you are interested in attending or know anyone that would like to attend, please click here to register.
Cost: The first session is free, then £3 thereafter.
Contact: Tel: 0207 993 9883 or Email: ignite@accesssport.co.uk
If you have any questions, please do not hesitate to get in touch.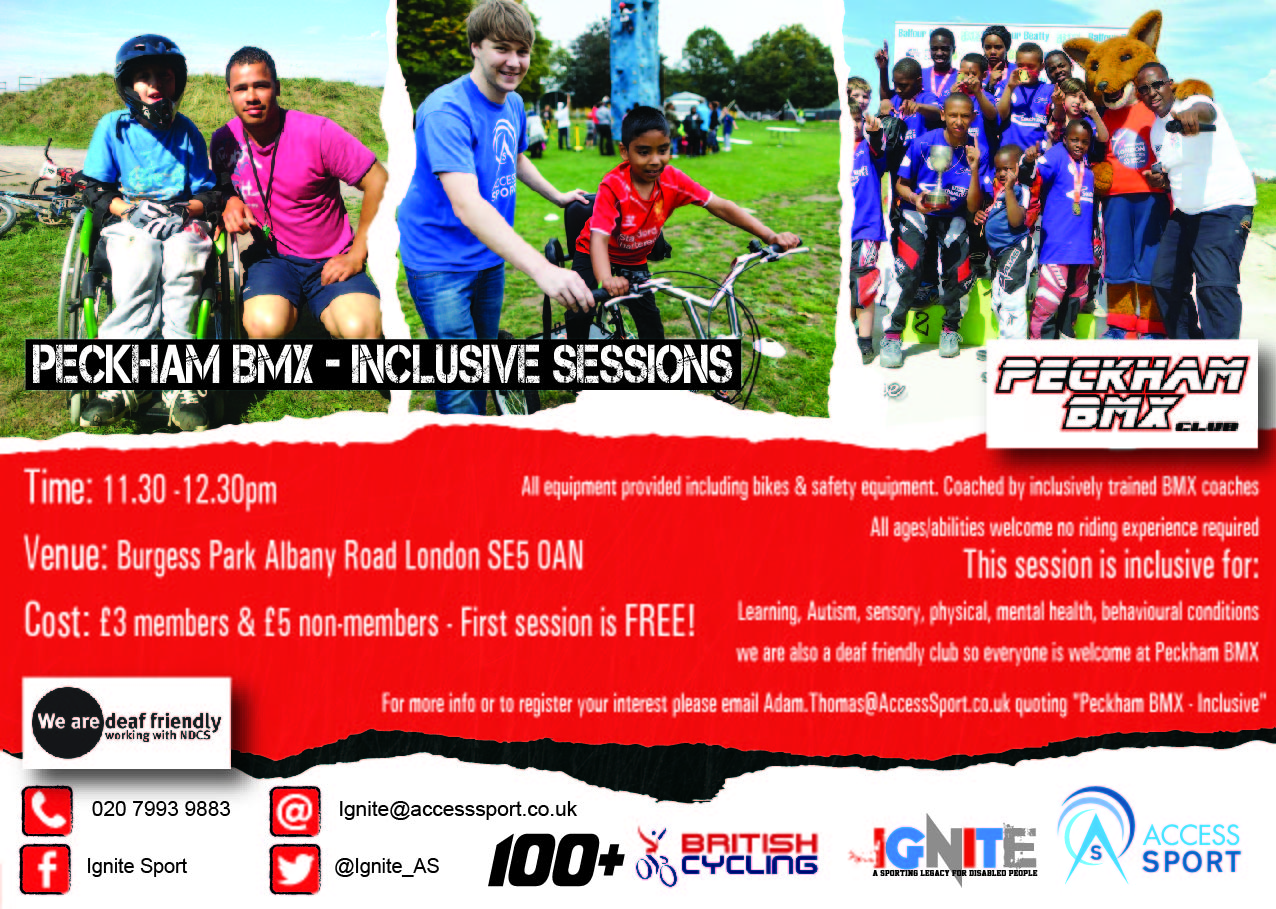 Free Swimming Lessons for Southwark Residents
Southwark Council is offering residents free swimming lessons. 12-week courses for beginners are available at leisure centres operated by Everyone Active on behalf of Southwark Council. If you're a Southwark resident, a non-swimmer and aged 16 or over you can book free swimming lessons.
• Residents with disabilities can book at any centre below.
Camberwell Leisure Centre, Artichoke Place, London SE5 8TS
The Castle Centre, 2 St Gabriel Walk, Elephant and Castle, London SE1 6FG
Dulwich Leisure Centre, 2b Crystal Palace Road, London SE22 9HB
Peckham Pulse Leisure Centre, 10 Melon Road, London SE15 5QN
Seven Islands Leisure Centre, 100 Lower Road, Rotherhithe SE16 2TU
For more information, please click here and also download the physical Activity leaflet (pdf, 443kb).
Disability Swimming Sessions
Sessions for children and adults with disabilities or long-term medical/health conditions are available to Southwark residents. Further details of availability are below.
Supported swimming sessions take place on Sunday afternoons at Dulwich Leisure Centre from 2.00pm-2.50pm
Check availability and book sessions here.
Seven Islands Leisure Centre
Supported swimming sessions take place on Monday afternoons at the Seven Islands Leisure Centre from 2.00pm-2.50pm
Check availability and book sessions here.
Peckham Pulse - Disabled Swimming Hydrotherapy Pool
Sessions are available at the following times throughout the week:
Monday:12:30 - 13:20
Tuesday:19:00 - 19:50
Thursday:20:30 - 21:20
Friday:12:00 - 12:50, 14:00 - 14:50
Saturday:15:00 - 15:50
Sunday:15:00 - 15:50, 18:00 - 18:50
Check availability and book sessions here.
Supported swimming sessions take place on Fridays 3:00pm-3:50pm and Saturdays 2:00pm-2:50pm at the Castle Centre
Check availability and book sessions here.
Camberwell Leisure Centre
Supported swimming sessions take place on Fridays 2:30pm-3:20pm and Sundays 10:00am-10:50am at Camberwell Leisure Centre
Check availability and book sessions here.
Providing a range of activities PESSN allow SEND students to attend their Saturday Sports Club at Bacon's College. We are a term-time club only which means we are closed during school holidays. The club caters for students between 5-18 years old for a 1 hour time slot each Saturday. Some of the sports include: Trampolining, Basketball, Badminton, Football, Tennis Table, Tennis Gymnastics, Nature Walk Gym.
How this is provided
We have 4 time slots available 10:30-11:30, 11:30-12:30, 12:30-1:30 and 2:00-3:00pm. Each session will have students with a range of disabilities making it open to all. Students must come in correct kit - trainers and socks must be worn during the session so they can use the trampolines.
Age: 5-18 years
Eligibility
Students must have SEND (special educational needs or disabilities) and live in Southwark, aged 5-18 years
How to access the service
People who would like to come to the club should email Glyn or George and we will send you a client application form and provide you with a time slot.
Dates: Saturdays, term-time only
Times: There are 4 time slots available 10:30-11:30, 11:30-12:30, 12:30-1:30, 2:00-3:00pm
Location: Bacon's College, Timber Pond Roadd, London, SE16 6AT
Cost: £25 per student
Confidentiality
Client application forms are kept under lock and key so nobody has access apart from the managers of the club. We have a safeguarding policy that we adhere to which helps us keep confidential information between the parties involved.
Contact
The best way to contact us is through emailing Glyn or George
You can also call 0207 2371928 ext: 4086
For further information please visit our webiste or download our flyer (pdf, 12.9mb)
Club Southwark is a thriving club, which takes place at the Geraldine Mary Harmsworth sports facility. With new members joining each week, this multi-sports club is certainly bursting with characters who are all enthusiastic about sport.
The members love the social side of the club as well as the competitive side! So if you fancy trying new sports and having a good chat we urge you to come along. Basketball, Boccia and Athletics are amongst the popular sports at this club.
Specialist taster sessions also take place in the club from time to time including boxing, dance, golf and more.
Siblings are welcome to join in and parents/carers are encouraged to stay, watch and even take part!
All disabilities and impairments welcome.
Club Details
Date: Saturday (term-time only)
Time: 2.00pm - 3.30pm
Venue: The Castle Centre, 2 St Gabriel Walk, London SE1 6FG)
Price: £4
Further information and registration here
Contact: Email Emma Cranston or telephone: 020 7021 097.
Tideway Sailability is a unique volunteer-run, sailing club in central London where people with disabilities participate on equal terms to those without a disability. For more information Tel: 020 7237 9001 or go to their website: www.tidewaysailability.org.uk

Inclusive cycling sessions
We run inclusive cycling sessions for Disabled people and their families, carers or friends, from the following three bases in south London:
Croydon Sports Arena (outdoors) Albert Road, South Norwood, SE25 4QL
Dates and Times
Tuesdays: 10 am – 1 pm (three bookable 45-minute slots starting at 10 am, 11 am & 12pm)
Saturdays: 10 am – 12 pm (two bookable 45-minute slots starting at 10 am & 11 am)
To book a space for a specific time slot please email bookings@wheelsforwellbeing.org.uk
We welcome groups to a maximum size of 10 cyclists.
Herne Hill Velodrome - (outdoors) 104 Burbage Road, Herne Hill, SE24 9HE
Dates and Times
Mondays: 11 am – 1 pm (two bookable 45-minute slots starting at 11 am & 12 pm)
Thursdays: 12 pm – 2 pm (two bookable 45-minute slots starting at 12 pm & 1 pm)
To book a space for a specific time slot please email bookings@wheelsforwellbeing.org.uk
We welcome groups to a maximum size of 10 cyclists. We ride on the flat part of the track.
Ladywell Day Centre - (outdoors) 148 Dressington Ave, Lewisham, SE4 1JF
Dates and Times
Fridays: 10.30 am – 12.30 pm (two bookable 45-minute slots starting at 10.30 am & 11.30 am).
To book a space for a specific time slot please email bookings@wheelsforwellbeing.org.uk
We welcome groups to a maximum size of 5 people (including both cyclists and supporters/carers).
Cost
We try to keep prices affordable and good value, while using suitable venues, excellent staff and volunteers and a range of specialist cycles. It costs us £25 per head to provide these sessions, and we ask for a contribution towards this as below. We are always grateful to those who are able to make an additional donation to support our work.
Per disabled cyclist: £5 (if you need a supporter/carer they are included in the price)

Per non-disabled cyclist: £5

Special family price (up to 4, including at least one disabled cyclist): £10
How to access the service
At all venues our qualified instructors, supported by fantastic volunteers, help participants try our cycles or get comfortable on the one that suits them, and offer ongoing support.
Following the Covid-19 outbreak, booking a space at a specific time slot is required at all our sessions. Please note that we will not be accepting participants on a drop-in basis.
If you would like to book a place for yourself or your client/family member at any of our sessions, please email bookings@wheelsforwellbeing.org.uk and let us know:
Full name of the Disabled cyclist(s)

Full names of all supporters/family members attending with the cyclist(s)

Preferred date and time slot

What cycle/s you would like to book and what cycle should be booked for a supporter/family member (this only applies for people that have attended our sessions before and know what cycle they like to use – our team will support new participants to find out which of our cycles works best for them during their first session).
Please note that:
We cannot take bookings more than 2 weeks in advance
We will confirm each booking enquiry by sending you a confirmation email
See our website for full details
Contact
Telephone: 020 7346 8482
Email: info@wheelsforwellbeing.org.uk
Address:336 Brixton Road, London, SW9 7AA
Useful information
Information for your first visit
Before attending your first session, please complete our online registration forms:
Covid-secure measures and new rules at our sessions
We have Covid-secure measures in place at all our sessions and have introduced new rules that follow government guidelines. We do everything to make sure that participants, carers and our staff members are safe during the sessions. Please read our rules before attending the session and follow instructions from our Inclusive Cycling Instructors, Volunteers, and venue staff at all times.
The session is open to anyone who may benefit from additional support that we are unable to provide in mainstream sessions and focuses on what a person can do, not on what they can't do. Classes are smaller in size and where it is appropriate 1 to 1 coaching is provided. If we are able to provide additional support within a mainstream session, we will also offer this. Please contact us for more details.
Sessions for children aged 6-12 years
When: Saturdays 5:00pm-6:00pm
Location: Camberwell Leisure Centre, Artichoke Place, London, SE5 8TS

Monthly Fees: SEND classes are £28 per month
Click to Enrol here (subject to availability)
If the class is showing as full please keep checking regularly until a space comes up.
Contact
Telephone: 07960 001 572
Email: info@southwarkgymnastics.co.uk
Visit the Southwark Gymnastics website
Girls Win is a free, inclusive sports and games club for young women with SEN, aged 15-25.
We support young women with disabilities ages 15 – 25 to set and achieve personal and professional development goals.
Day: Every Thursday
Time: 4:30pm – 5:30pm
Location: The Africa Centre, 66 Great Suffolk Street, SE1 0BL (close to Southwark station)
Activities: Dance, sport, yoga, arts and crafts, mentoring, personal development, career support, free trips and residentials, holiday and term time.
Contact: Maddy Ford, Women and Girls Programme Manager
T: 07824 589443
E: maddyford@changefdn.org.uk
Click here to download the flyer (png, 0b)
Age Range:
0-18 years +
The Service:
The MahaDevi Yoga Centre offers 1:1 sessions of yoga therapy to children with special needs to help them build balance, strength and confidence.
The sessions are for babies and children with autism, Down's syndrome, epilepsy, Prader-Willi syndrome, Hemiplegia, ASD, ADD, ADHD, eye impediments, ME, sciatica, cerebral palsy, speech impediments, behaviour issues, wheelchair users and many more.
The practice involves:
An integrated series of yoga postures to increase body awareness and strength
Specialised breathing exercises, eye exercises and relaxation techniques, to improve focus and concentration
Vocal work to improve speech, strengthen lungs, and deeply oxygenate the whole body
Yoga for the Special Child: The Sonia Sumar Method is an acclaimed international yoga therapy method developed by renowned senior yoga teacher Sonia Sumar.
Who is the service for?
The service is open for any baby or child with special needs in the UK to apply for.
It is currently provided to babies and children with Down's Syndrome, Cerebral Palsy, Microcephaly, Autism, Attention Deficit Disorder, ADHD, learning disabilities, and many other conditions and developmental challenges.
Criteria for access to service
Any parent or carer for a child with special needs may apply for the service direct with the MahaDevi Centre.
Accessibility of this service
The Maha Devi Centre is in North London, Highbury & Islington and open 7 days a week. A parent or carer is required to be present during the session.
How this is provided:
The centre has full wheelchair access and fully caters for families.
How can I access this service?
To access the service, please email info@mahadevicentre.com or visit www.mahadevicentre.com
How is this service funded?
The Centre is in the process of becoming a registered charity and will move into an Islington Council run building this autumn.
Currently the centre subsidises Yoga for the Special Child sessions by running adult Hatha yoga classes.
Do you need to pay for this service?
Parents are asked to pay a minimum fee subject to their circumstances.
Useful to know
The MahaDevi Yoga Centre is run by the founder of the centre Denisa Nenova, who is the principal therapist.
She will be your main point of contact.
Contact us
The MahaDevi Yoga Centre, 102A Holloway Road, London, N7 8JE
Nearest tube Highbury & Islington
T: 07772 336 719
Training provided:
If a Southwark resident wishes to train in delivering Yoga for the Special Child they are very welcome, Sonia Sumar and Denisa Nenova run trainings annually at the MahaDevi Centre.
The Centre is also running the very first Yoga for the Special Child conference in the UK in November 2017.
Drop in service
The Centre currently runs only scheduled 1:1 sessions for children and bookable adult classes.
Art
We run a number of educational arts-based projects for children, young people and adults with disabilities and special educational needs.
Our creative educational activities enable our learners to develop their skills and knowledge in an enjoyable way. We also provide our learners with invaluable opportunities for socialising; for many of our students, the club is the main place they can enjoy friendship and community.
Activities are diverse, from painting, poetry and drama to cooking and games. By supporting learners to develop their independent living skills, we enable them to live their lives to the full.
Sport
We provide weekly opportunities for young people with learning and/or physical disabilities aged 14-25 within Southwark to participate in two sports; trampolining (rebound therapy) and swimming (hydrotherapy).
These sports enable individuals with more profound and multiple learning and/or physical disabilities to experience weightlessness and improve muscle tone by practicing rhythmic, three-dimensional movements. Our long term aim is improve the psychological health and emotional well-being of our young people.
Who is the service for?
Adults and Young People with Special Educational Needs or Disabilities.
Criteria for access to service
This is a universal service there are no criteria. We provide for all areas of need and levels of need.
Accessibility of this service
Services are accessible to all levels of need. Building is fully accessible.
How can I access this service?
Parents and young people can self-refer to services. We also accept referrals from professionals.
See website.
Please e-mail Rachel Zipfel
Telephone: 0207 358 7716
Do you need to pay for this service?
These services are funded by a combination of Southwark Council and Personal Budgets. Sensational Sports is funded by Sports England. Service charges vary depending on service and level of need.
Please contact Rachel for more information.
Confidentiality and Impartiality
The service is confidential and you will be asked for permission for us to speak with professionals on your behalf. We have a professional duty to report any safeguarding concerns, but where possible we will consult you first before making any referrals.
Contact
Phone: 0207 358 7716

Email: rzipfel@ch1889.org
Whether you are a first time rider or a regular cyclist looking to improve your skills, our free 1-to-1 sessions are tailored to suit your individual abilities and goals.
Choose the course that's suitable for you from the following options:
Basic Cycle Skills
In this session you can learn to cycle in a safe, off-road environment with a qualified instructor. You'll learn the basics, build your skills and gain the confidence to be able to navigate around your local area.
Click here to book a basic cycle skills session.
Urban Cycle Skills
Improve your cycling skills and confidence. You'll start in a safe, off-road environment to refresh your cycling technique and develop new skills before moving on to practise on quiet roads. Your qualified instructor will support you throughout.
Click here to book an urban cycle skills session
Advanced Cycle Skills
Perfect your cycling techniques with a qualified trainer. Improve your performance when dealing with complex junctions, heavy traffic or cycling at night and receive assurance that you are cycling efficiently and effectively.
Click here to book an advanced cycle skills session
Whichever option you choose your instructor will assess your abilities and progressively build on them. Once competent, we can help plan the best routes to work, to friends' houses or wherever you want to go. And we can incorporate these routes into your sessions. By working through the National Standards our instructors will help you cycle safely and with confidence on the roads.

Individuals with disabilities that still allow them to balance/cycle can learn to ride or advance their skills by booking here: www.cycleconfident.com/courses/individual (please outline medical requirements when booking).
Tel: 0203 031 6730
Sporting Recovery develop and promote ways of helping people with mental health issues cope with their recovery journey and find ways of integrating back into their community. Their programmes integrate sports, nutritional advice and education (with nationally recognised qualifications leading to employment) into an accessible form for participants.
Sporting Recovery offer team sports and exercise for people with complex needs at whatever point in their recovery journey, in-patient or in the community. They provide practical support and information about the nutritional needs required to sustain a healthy lifestyle for sporting activities. They also offer opportunities to develop coaching certificates in the various sporting and exercise disciplines alongside basic healthy cooking classes.
As a non-profit organisation , any profits made by the company are invested to create a positive impact within the community. As part of their investment programme, they select and train service users to become Sporting Recovery coaches across a number of sport and exercise disciplines. Once trained the service users can gain work experience within Sporting Recovery or can work/volunteer with other local leisure/sporting companies.
Who the service is for:
They support people with complex care needs achieve structure and promote social interaction in their daily lives.
How to access:
Call 0300 030 1233 or email us or vist our website
The Service:
S-Factor Academy's Inclusive team works with disadvantaged and disabled (physical/learning or sensory) young people to help them achieve their full potential in sports; improve well-being and overall quality of life.
Working with Access Sport Ignite we help to build on fun activities and fulfilling programmes.
Who is the service for?
Anyone with any disability, impairment or additional need. Also open to non disabled siblings.
Criteria for access to service
Everybody is welcome at our club
Accessibility of this service
Services / facilities within the arena include adapted and standard toilets and showers and changing rooms. There is a ramp or slope to access this service.

There is permanent, easy ramp or slope access.
How this is provided:
Provided by trained volunteers
Do you need to pay for this service?
Session are £2.50 for a disabled athlete and free for non disabled siblings
Contact
Email: admin@sfactoracademy.co.uk
Telephone: 07719596045 or 07719596044
See our website for further information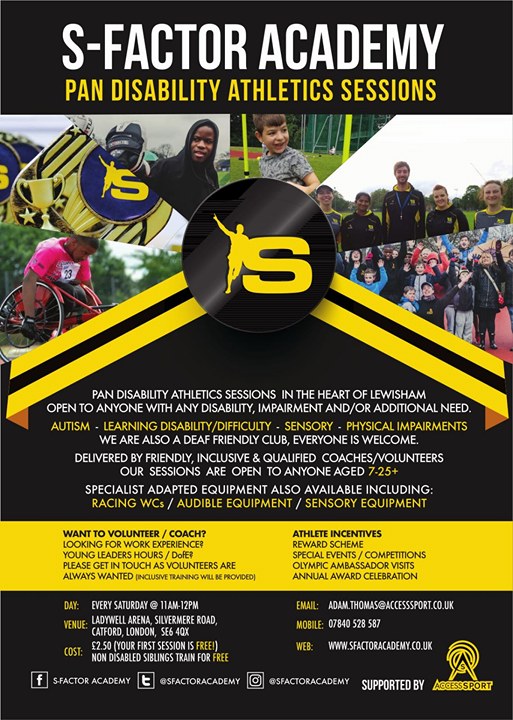 Oxygen Freejumping is the UK's number one trampoline park operator with 4 parks across the UK
PEACEFUL PLAY
Going to a standard Freejumping session can be a challenge for Jumpers on the autistic spectrum, or with sensory or learning disabilities. With this in mind, our Peaceful Play sessions were created. They are specially designed to be all the fun of a Freejump, just a little more peaceful.
Locations
The O2, Peninsula Square, London, SE10 0DX
Unit 5, The Colonnades, Purley Way, Croydon, CR0 4RQ
Cost
See website for different activity prices