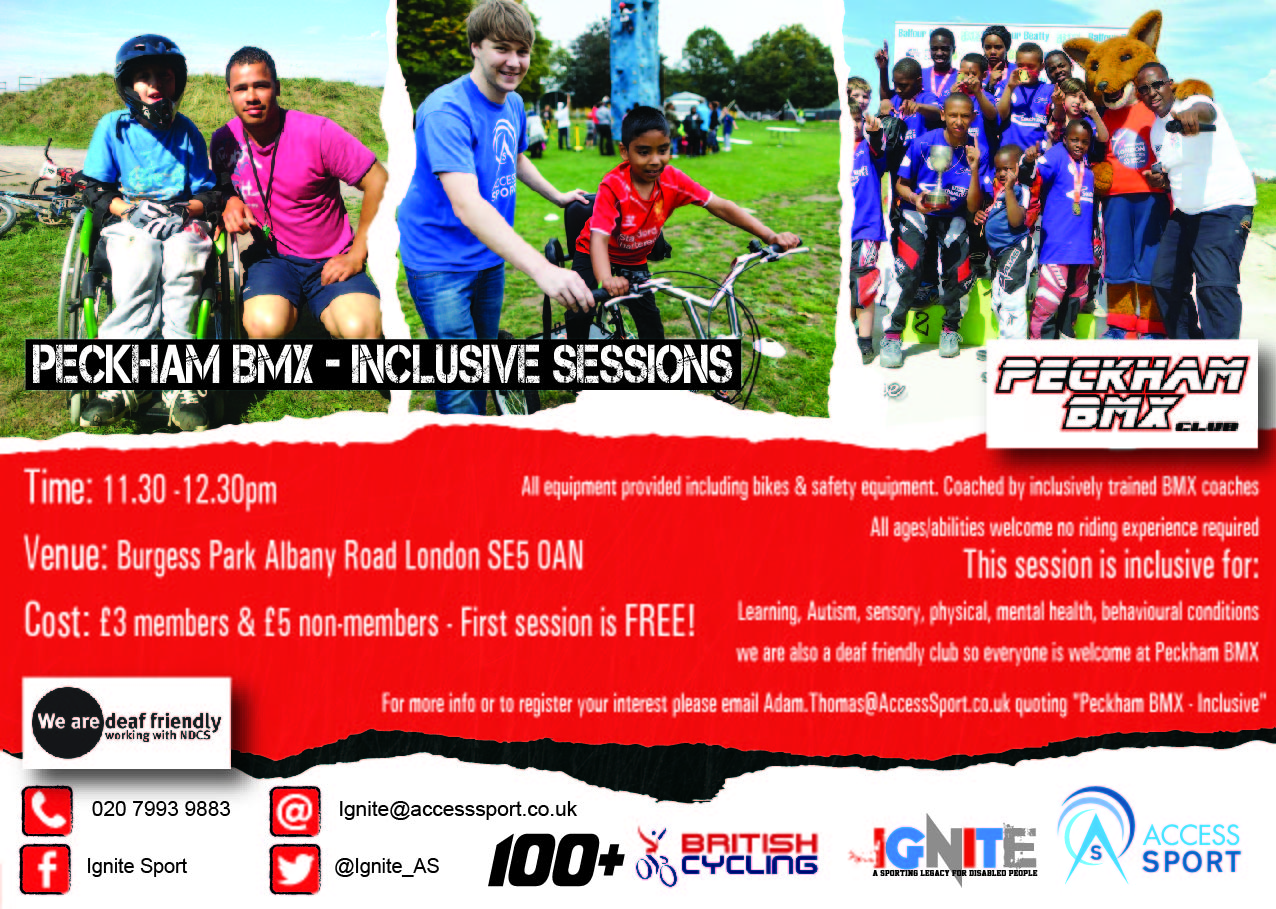 Saturday Sports Club for SEN students - Spa School


The Bacons Schools Sports Partnership runs a Saturday Morning Sports Club at Spa School and is open to both primary and secondary SEN students from mainstream or special schools.
The two sports are trampolining and gymnastics/ball sports and sessions are:
10.30am-12pm,12-1.30pm and 2-3pm. 

There is a charge of £25 per child for the year and siblings are welcome. If you would like your child to join, please contact Glyn Davies:
Tel: 020 7237 1928. Mobile: 07734225329. Email: G.Davies@baconscollege.co.uk

Southwark Free Swimming lessons
Southwark Council is offering residents free swimming lessons. 12-week courses for beginners are available at leisure centres operated by Everyone Active on behalf of Southwark Council.
If you're a Southwark resident, a non-swimmer and aged 16 or over you can book free swimming lessons. Lessons are available as follows:

• Adults aged 16 or over can book lessons at Peckham Pulse Leisure Centre

• Over-60s can book lessons at any centre listed below

• Residents with disabilities can book at any centre below.

For more information, please click here

Wheelchair Basketball & Multi-Sports

Wheelchair Basketball is open to disabled and non-disabled young people aged 14-25 years and open to all abilities free of charge.
For more information on Salmon Youth Centre DSC contact Jamie Anglesea:
Tel: 020 7232 5304 or visit the Salmon Youth Centre Website

Multi-sports DSC Community Club

A pan of disability multi-sports sessions open to all 11 year olds and over. The sessions run every Saturday from 3pm-5pm at Camberwell Leisure centre and costs only £2 per session. To take part just turn up for your first session or for more details please download the DSC leaflet or contact Emma Cranston: emma@disabilitysportscoach.co.uk or 020 7021 097.

Disability Swimming Coaching
An opportunity for children and young people to improve their swimming ability through supported swimming sessions on Sunday afternoons at the Dulwich Leisure Centre from 2.00pm-3.00pm
Please download the Disability Swimming Coaching leaflet for more details
Alternatively for further information contact: Laura.Spooner@southwark.gov.uk or 020 7525 7304
Disability Swim Squad - London Youth Games swimming programme


A unique partnership of Fusion Lifestyle, Southwark Council, Dulwich Dolphins and Southwark Aquatic swimming clubs has created a London Youth Games swimming programme, open to young disabled swimmers aged 5-13 who live or go to school in Southwark.
The sessions are free of charge and are as follows:
One-to-one sessions: Fridays 7-8.30pm in the hydro-therapy pool at Peckham Pulse Healthy Living Centre 
Swim squad for more able swimmers: Sundays 2-3pm at Dulwich Leisure Centre 

For more information please contact Dulwich Dolphins swimming club on email: swimdulwich@gmail.com or Amala Onuora at: amala.onuora@southwark.gov.uk

You can also find more information at:
www.southwark.gov.uk/londonyouthgames
Disability Swim Sessions: Fusion


Swimming Age 8+: Monday, 6.30-8pm at Seven Islands Leisure Centre.
Family Disability Swim: Dulwich Leisure Centre. Disability and hydrotherapy swimming sessions are run at Peckham Pulse Healthy Living Centre. The hydrotherapy pool floor is moveable for the ideal swimming depth. Check times for sessions for 16 plus and adults. For more information call:
020 7237 3296
 or click here: www.fusion-lifestyle.com

SENsational Trampolining and Swimming


Sport England funding has been awarded to Cambridge House and the London PE and School Sports Network to deliver 'SENsational Sports', a programme of Swimming and Trampolining sessions tailored for young people with learning disabilities aged 14-25. 

For further information please contact: Beatriz Dominguez at Cambridge House at: bdominguez@ch1889.org Or Tel: 020 7358 7014.

Sailing Age 8+


Tideway Sailability is a unique volunteer-run, sailing club in central London where people with disabilities participate on equal terms to those without a disability. For more information Tel: 020 7237 9001 or go to their website: www.tidewaysailability.org.uk

TennisAbility in Dulwich



TennisAbility holds sessions at Dulwich Lawn Tennis club for visually impaired, hearing impaired, those with learning difficulties and wheelchair users. It offers the opportunity for disabled children and adults to have fun and play tennis whatever their ability. For more details please email:
info@kpmtennisacademy.co.uk or go to: www.kmptennisacademy.co.uk

Wheels for Wellbeing - cycling for the disabled in Herne Hill



Wheels for Wellbeing in Lambeth run weekly cycling sessions for disabled young people at:
The Herne Hill Velodrome. Mondays 11-1.30pm. £3 per participant, £1 per parent/carer.
Find out more at: wheelsforwellbeing.org.uk Or Tel: 020 7346 8482

There are also sessions in Croydon and Lewisham.

All Ability Cycling


A new all-ability session at Corelli College on Saturdays at 1.30 run by cycling club Limited Edition. The session is aimed at riders with every type of disability, and their families and carers. Cycles will be provided and the fleet currently comprises adult tricycles, child tricycles (2 with full thoracic support) and hand cycles. Cost is only £1 per rider with one carer admitted free. For more information call 07904 628814.
Everyone is invited to come and have a try of the trikes.

Disability Gymnastics Age 4-16 - Southwark Gymnastics 


Disability gymnastics is open to anyone who cannot access a mainstream class (such sd GfA or My Club) and focuses on what a person can do not on what they can't do. Classes are smaller in size and where it is appropriate 1 to 1 coaching is provided.

Thursday- 6pm-7pm at Camberwell Leisure Centre

Phone: 07960 001 572

Email: info@southwarkgymnastics.co.uk

Visit: www.southwarkgymnastics.co.uk

Westminster House Youth Club - Wheelchair Sports Sessions


Westminster House Youth Club runs disability awareness sessions and wheelchair sports sessions on Wednesday evenings from 6.30–7.30pm. If your child is aged 10-18 and would like to participate in the Wednesday wheelchair sport sessions, please call: Katie Worthington on 0207 639 5879 or 07961 165014.