Our Team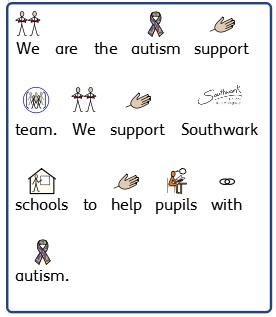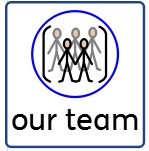 26.03.2020 - UPDATE
The Autism Support Team will be operating a remote service during this current time of nursery/school closures. Our specialist team are able to provide consultations to parents/carers, and educational staff via digital communication. Please click here for details of how to contact us. (pdf, 250kb)
We are an Outreach service of Specialist Teachers and an Occupational Therapist – available to all maintained Primary and Secondary schools in the borough.
We are also available to support students in Secondary Academies, if they have a Statement or EHC Plan. We do not support students at home. This service is for Southwark schools that have students with a Diagnosis of Autism Spectrum Disorder (ASD) attending the school. All schools are Autism aware – and have some experience of addressing the needs of students with ASD in the classroom. Our job is to support Teachers and other members of the mainstream school staff to meet the individual teaching, learning and wellbeing needs of students with Autism in their school.
In order to access the service the young person or child has to be on the Autistic spectrum (via a formal diagnosis) and the Parent / Carer's consent to see the student. The school SENCO or Inclusion Manager requests our advice or support by completing our 'Request for Support' form. Our input can also be requested using a CAF.
How this is provided:
There are 4 foundational elements to the Autism Support Team service:
Consultation: Through direct observation of students in the school environment, and then providing relevant feedback, advice, and recommendations to school staff.
Training: Focused training to meet the needs of the school and staff working directly with our students with Autism. We utilise a coaching model, and will work with staff, but not with the student except in that capacity to demonstrate effective strategies.
Resource Development: Related to Training, our Resource Development element provided the skills necessary to create supportive material (such as visual supports, timetables, task checklists) and how they are most effectively implemented and used by the student.
Planning: By working with school staff from the SENCO through to the direct contact staff, we can work collaboratively with the school to devise and implement effective best-practice interventions, and long-term school planning including identifying necessary training, and resource development.
By working closely with staff within the classroom, to provide general autism awareness, practical support strategies and training – on interventions, strategies, supports for learning, managing behaviour, and sensory needs.
By liaising with the Early Help EY AS Team to support students entering schools full time in Reception, and with the Locality Early Help Teams, school Educational Psychologists and Speech and Language Therapists.
We are also able to provide assessment & advice for schools in the use of 'sensory' rooms and adapting learning environments appropriately for each student.
We contribute to assessment and the production of EHC Plans.
We attend Annual Reviews for students in mainstream schools in Borough, and for students attending specialist schools and provisions out of Borough.
We provide support to schools and Parents in preparing students for the transition to Secondary school.
All notes and records are managed in line with the Councils confidentiality, safeguarding and Data Protection Policies . Records of visits, advice and Reports are shared with schools and Parents
Useful to know
We are an Outreach Team and are therefore out of the office, working in schools for part or the most of the day.
Preferred contact - via email